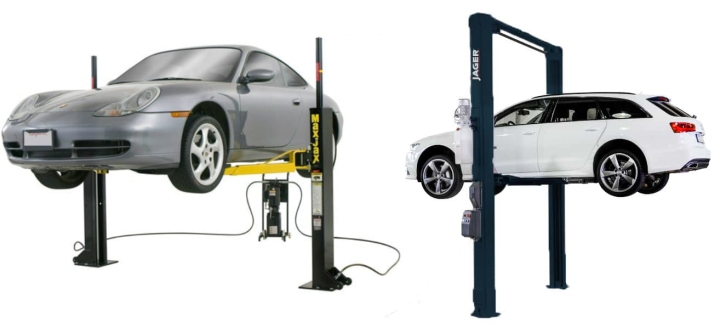 2 Post Car Hoists
A wide range of durable Jager or Ascenta, reliable 2 post car hoists
Whether you're working on your own cars, or running an independent service workshop, you need reliability and versatility from your vehicle hoists. That's exactly what you'll get from Garage Equipment 2 post car hoists.
Available in a variety of widths, heights, weight capacities and configurations, there's a car lift for every application. Our 'Clearfloor' models give you unobstructed floor space, allowing you or your technicians to easily move toolboxes, transmission jacks, oil drains and other vehicle service equipment underneath the car you're working on.
And if your workshop has a low ceiling, or you need to lift high-profile trucks and vans, our 'Floorplate' 2 post models have a design featuring no overhead obstructions and increased headroom.
Or perhaps you'd prefer the convenience of being able to open a vehicle's doors while it's still on the hoist. In that case, you'll definitely want to check out our state-of-the-art asymmetrical models.
Most of our two-post hoists come in medium, heavy and super-duty capacities, so you'll definitely find the right vehicle hoist for the job. No matter what your specific lifting needs are, Garage Equipment have your new automotive service solution ready to ship and install.