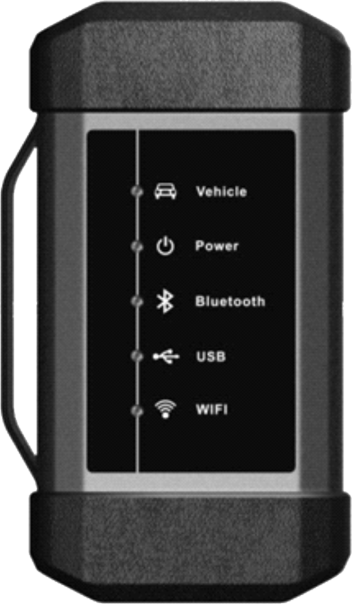 The new LAUNCH heavy duty module is perfect for a shop that works on heavy duty (Class 4 through 8) and medium trucks. It can read the vehicle data via Bluetooth/Wi-Fi communication or USB connection.
More over this module can work with the X-431 PAD II, PAD III, PAD V and the new Superior PAD III, to expand the diagnosis of the HD vehicle and can diagnose both 12V & 24V vehicles.
It supports the following special functions, Component Replacement, Cylinder Compression Tests. Injector Cut Out Tests and DPF Regeneration. The new add-on module works on various systems, including Engine, Transmissions, ABS, and Auxiliary from manufacturers such as Wabco, Bendex and Allison. The new tool can be used on vehicles including Cummins, Detroit, Freightliner, Fusco, Hino, International, Isuzu, KW, Peterbilt, Sterling, Volvo and so on.
Features:
1. Full comprehensive HD truck diagnostic software functions
2. Wide diagnostic software coverage
3. Accurate test data
4. Release new software version timely to let customers enjoy latest service
5. Able to test truck with 12V or 24V battery diesel engine. When testing 24V truck, battery conversion is not required
6. Diagnostic hardware is designed according to international standard, compatible with diagnostic interfaces of worldwide models
7. Including wide-range connector and cable
8. Supported brands: Benz, Man, Volvo, Daf, Scania, Iveco, Renault, Freightliner, International, Kenworth, Peterbilt, Stering, Western Star, Mack, Fuso, Isuzu, UD, etc.
Software Coverage:
Nissan (Diesel)
Mitsubishi (Diesel)
USA Ford Diesel, Kenworth
Astra, Benz Heavy Duty, Bosch Diesel, China Heavy Duty, Cummins Heavy Duty, DAF, Delphi Diesel
Denso Diesel, FAW Liberation, Foton Auman, FUSO, Hino, Hyundai Heavy Duty, Isuzu Heavy Duty
Iveco Heavy Duty, JAC Heavy Duty, Mack , MAN , OBD Heavy Duty, Scania, Shangchai Diesel, Volvo Heavy Duty
WP Diesel, Airbus, Allison Transmission Box, Ashok Rejlander, Bendix ABS, Caterpillar Heavy Duty
Chai Heavy Vehicle, Chaoyang Diesel, Construction Machinery, CREDO Heavy Vechicle, Detroit Engine
Dongfeng Commercial Vehicle, Dongfeng Yufeng, Doosan Engine, Freightliner Heavy Duty Truck
Full Diesel Diagnosis Software, Haldex ABS Heavy Duty, HD_ABS System, HD_GoldenDragon, HD_International
HD_Kinglong, HD_Maxxforce, HD_Tata, HD_Western_Star, Heavy Truck Presentation Software
IRISBUS HD, IRIZAR HD, NEOPLAN HD, Peter HD, Renault HD, SETRA HD, Stannic Bavin, Sterling HD
Sunlong Bus, Sunwin Bus, UD Trucks 2F Nissan Diesel, WABCO ABS, Yang Chai Engine
Powerful special functions:
Component Replacement, Cylinder Compression Test, Injector Cut Out Test, DPF Regeneration
Communicates with ABS & Transmissions from Bendix, Wabco and Allison
Tech to Tech remote communication function
Specifications:
| | |
| --- | --- |
| Input voltage: | 9-36V |
| Power: | ≤3.0W |
| Working temperature: | -10℃~55℃ |
| Communication: | USB/Bluetooth/Wi-Fi |
| CPU: | 120MHz |
| Size: | 204X110X45 mm |